We are a premier web development company that creates digital solutions from concept to deployment, data migration, API integration and plugin development with expertise. We develop high-performance and easy-to-manage WordPress websites for clients with good business results. WordPress, initially a blogging platform, is by far the most popular website development platform and CMS. The platform has capabilities, functionality and features that you cannot ignore. You need a website for your business and WordPress has got you covered. With Usability Designs, you can get first class WordPress development services from expert professionals to develop and deploy the most efficient and feature rich business website. As a company, we take pride in providing an excellent experience to customers worldwide by delivering unparalleled WordPress development services. Whatever your web development requirements are, we are solely focused on ensuring that we meet them perfectly using WordPress technology.
WordPress is one of the simplest and most powerful content management systems and comes with numerous features to make your experience pleasant and engaging. It maintains a worldwide community to help you 24*7. There are numerous plugins available to add features to your site. Usability offers WordPress development and high-end solutions at affordable prices. WordPress Development Company Services meet every business needs a digital agency. We are a WordPress development company in Pune, India with years of experience in developing custom WordPress websites. Harnessing the power of the WordPress CMS, we dominates the face of the website development industry by offering exceptional WordPress development services. If you're looking to set up your special contribution to a blog web page or hoping to build a unique and intuitive business site, look no further than one of the best WordPress development service providers.
We are one of the most recognized WordPress development companies worldwide and have been in the business for over two decades. Our skilled group of WordPress developers have the intuition to deliver out-of-the-box web solutions using the latest WordPress innovations. We believe that heart winning websites and human-friendly interfacing are not easy. Pushing technical with creative boundaries, we thrive on focusing complexity to deliver SEO smart and robust WordPress web development services. As of now, WordPress accounts for at least 31% of the worldwide web. Respecting and keeping this endeavor in mind, we extend our class-apart WordPress website development services to all industry verticals. Our websites contribute to businesses and are compatible with a wide range of business needs.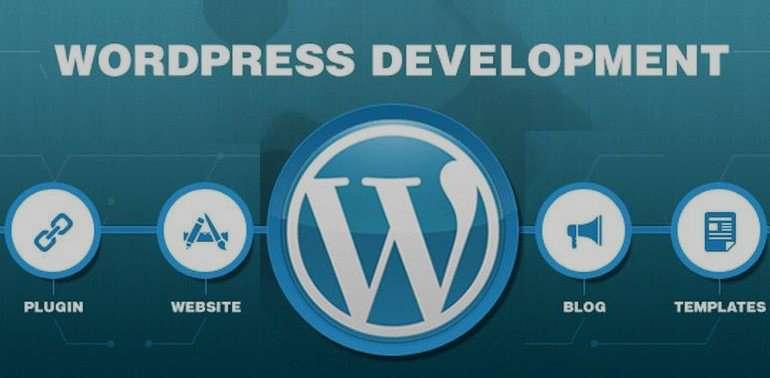 Why Choose Usability Designs for WordPress Development Services?
We are a top WordPress or web development company focused on innovative technology and customization. Our expertise in WordPress design and development encompasses a range of cutting-edge features that help you to dominate your market. Offering professional WordPress design and development services, we provide individual focus on the intricacies of each web project and deliver highly optimized SEO-smart WordPress solutions within the stipulated timeline. We strongly believe that delivering high-quality work and service with a focus on achieving results will sustain client relationships. Apart from building websites, our team of qualified WordPress developers also optimize websites for search engines. To strengthen and empower your company, hire a WordPress developer from Usability Designs as your WordPress development partner. Here are some justifications for choosing us as your WordPress developer.
Usability is a reputable WordPress development partner with focused experience in building ROI-driven enterprise-class websites that deliver unbeatable performance, control and security. Our WordPress solutions are known for their scalability, unique functionality and stunning design. Our WordPress developers follow clean and clear coding practices to deliver secure and scalable websites. Along with this, dedicated project managers help you with seamless delegation of your WordPress development services. You can opt for a project-based model or manage your projects independently by renting resources through our dedicated resource model. It is not easy to choose the best WordPress website development service provider that understands your exact requirements and brings your vision to life. We not only listen to your idea, we analyze it, check the competition and then provide you with a future proof solution as it will impact your business income for years to come. Here are a few reasons why we know we're the right partner for you.
1. Experienced Developer
We have experienced and creative WordPress developers who can create well-optimized, conversion-focused and feature-rich WordPress solutions that deliver an unforgettable user experience. We have a group of exceptionally experienced WordPress developers who have a deep understanding of the platform. Our group can achieve every WordPress development project with complete flawlessness without complications.
2. Well Maintained and Quality-Driven Process
We prove to be one of the best WordPress design and development service providers when it comes to process. We have our own quality control process which we follow throughout the development process to deliver error free solutions. Our experienced team plays a major role in providing the best WordPress services.
3. User Friendly Admin Panel
We create simple and intuitive admin panels that are easy to use for users. Websites are easy to manage and maintain with the custom admin panel we create with our WordPress website design service. Be it requirements clarification, plugin development, theme customization or custom WordPress website development services, we study every minute detail to deliver a solution that stands out from the competition.
4. Transparency
Trust is built when things are transparent. We, being a prime WordPress design and development service provider, share accurate details on time for development timeline, progress updates, costs or anything that affects the process. We follow transparency in everything so that hole process goes smoothly. Since everything is well planned in our development process, we work with clients to present them as they are.
5. 100% Satisfaction Guaranteed
Regardless of the service you choose from WordPress website development, plugin development or custom Woo Commerce development services, we work hard to deliver 100% satisfactory results to our customers. All our clients are satisfied with all our services. We are committed to making your WordPress project success. You can rest assured by working with us that you will always get the best overall from us.
6. WordPress Support and Maintenance
As a reliable WordPress development organization, we give the highest improvement administration, however, we likewise resolve your concerns. If you find any bugs in your site, reach out to us and we will fix the problem for you. We provide complete support for you and also provide any post development services so that your project does not have any errors & work smoothly.
High quality WordPress Development Services offered by Usability Designs
Usability is the best WordPress development company and has years of expertise in providing unique and well-optimized WordPress solutions. Our experienced WordPress developers are always updated with the latest WordPress releases to provide you with best-in-class bespoke WordPress development solutions. WordPress Development Services – One stop place for all your WordPress needs. Cost-effective WordPress development solutions for your business needs.
Our WordPress developers build reliable, robust hybrid websites. This means that if you are looking to hire a WordPress developer, you are in the right place. Small businesses and start-ups around the world can use WordPress development services provided by our talented experts. We support you to increase your brand value, generate revenue and attract customers. Use our superior services to create personalized, highly optimized websites that will benefit your company. Take advantage of our versatile enterprise WordPress development services with extensive knowledge of WordPress and the ability to meet evolving business requirements, industry quality standards and challenging environmental demands. With us, you get all the experience and expertise you need to create an enterprise-grade WordPress experience.
1. Custom WordPress Website Development
We are a leading custom WordPress development company with experience in building clean and modern websites from scratch. Our highly skilled and experienced WordPress developers can create industry leading custom WordPress websites at a pocket friendly budget. Usability Designs offers all possible WordPress services from custom WordPress theme development, plugin customization, WordPress speed optimization, SEO, and Facebook apps with third party modules and applications or creating Facebook apps for your WordPress website.
2. WordPress Plugin Development
WordPress plugins can help you to increase website functionality without changing the code. Our expert developers always follow the best coding practices and use the latest WordPress version and are error free and easy to integrate custom plugins that add unique features to your website. We cater to various business needs and provide them with tailored plugins and extensions on the WordPress platform. With the help of plugins, we enhance the functionality of your website according to your business needs. We configure and customize existing plugins and develop new plugins based on business requirements to leverage additional features and functionality and achieve higher return on investment (ROI).
3. WordPress Migration Services
WordPress migration is a complex task but we can make it easy for you. We can quickly switch your website to a new host without losing data. Our expertise enables us to expedite the entire migration process. We migrate your website seamlessly with zero downtime and no data loss from any other CMS to WordPress so that the limitations of other CMS do not become a hindrance for you.
4. eCommerce Solutions
We are well versed in integrating WooCommerce and creating eCommerce websites tailored for your business. You can take your ecommerce store with the help of our WooCommerce development services. We not only develop a new WooCommerce store for you but also help you migrate your existing store to WooCommerce safely and seamlessly. We also integrate the necessary plugins and features to create a fully functional ecommerce website that will give a strong online presence. We build an online e-commerce store that helps you market and sell with seamless integration of various e-commerce plugins available in WordPress like WooCommerce, WP E-Commerce, Easy Digital Downloads, BigCommerce etc.
5. WordPress Bug Fixing
For all bugs and issues related to your current WordPress website, our team of experts is here to help you with their experience. Hire a WordPress developer from Usability Designs and we'll get your WordPress website fixed and running smoothly. We can fix all the errors related to your existing WordPress site, so it can run without any errors. Our quality analysts work delicately to check the functionality and usability of the website and ensure its optimal performance.
6. WordPress SEO Services
We create search engine optimization plans for your website and implement them strategically to make your website rank on the top pages of search engines to drive more traffic and generate higher leads and conversions. We follow the latest policy best practices to advance your site for web indexing. We will work to bring the site to its high ranking through SEO services. We find relevant keywords, valuable content, back-links for websites and more.
7. Responsive WordPress Theme Development
Do you feel that your existing website is lacking in responsiveness and feels sluggish on the screen? We provide highly responsive WordPress theme development services as per your individual needs. As a reliable web design company, we develop best responsive WordPress solutions that provide a pleasant look and feel using WordPress. We ensure the best functionality and appearance of the website on various browsers and devices.
8. Maintenance and Support
A WordPress development agency like us understands that not all clients are technically competent to maintain their sites and stores alone, nor do all clients have the time to update and maintain them. Look no further and hire us for all the maintenance and support required. Apart from providing attractive WordPress web development services and plugin development services, we also provide affordable support and maintenance plans to ensure that your website is up and running at any time and users get seamless performance every time. We have technically competent developers who will work efficiently to update and maintain your site. They have prior experience in providing technical support and maintenance services.
Our Convenient WordPress Development Process
Building a WordPress website is a step forward. Before you can do that, you need to install the CMS and configure it in the organizational systems to get started. We are a leading WordPress development company creating WordPress themes and plugins. Our goal is to provide customers with Google-friendly websites that enhance your company's position in the market. We use the right techniques and equipment to deliver you reliable, adaptable solutions within the allotted time frame. We provide WordPress CMS installation and configuration services to help you get started with WordPress so that you have a robust and functional business website for scalability and profitability in your operations.
Hire a WordPress developer from us to get the best-customized, fastest WordPress website as soon as possible. Your project requires a team of highly qualified experts who are truly adept at what they do. Creating WordPress websites is the passion of our team of professionals. They offer high-quality, personalized services tailored to your company's needs.
1. Requirement Gathering
We will connect to understand and discuss your business, project requirements, current website specifications, goals and expectations to determine if we are a good fit. This is the first stage of your development process. After receiving your WordPress project requirements, we will have a one-on-one discussion. We will also provide you with high-level solutions and potential perspectives through a free consultation call with our team. Begin development by defining all system requirements, making initial technology decisions, and capturing user roles and personas.
2. Wire frame Creation
Once approved by you, Our dedicated WordPress developer will quickly create a wire frame to match your project requirements. This is where you get access to a similar design to your WordPress project. You can review and request for suggestions if necessary. Based on your instructions, your developer will provide you with a final copy of our wire frame and bring your project into the development phase.
3. UI Design
This is where your dedicated developer will work on the features and functionality that you approved in the above steps. Our developer will work on the suggestions offered and carefully create the final layout and present it to you for approval. Here you will access the placement of your features and functionality that we  creates. Determine the initial look and feel of your product, model the user experience and user journey, prioritize features, and plan the release. Our designs keep a foot on the pedal race of development to create an effective website.
4. Development
Usability designs team initiates project development according to project plan, completes development according to milestones and prepares internal demos. Throughout the product development phase, track quality assurance, DevOps and deployment updates using the project management tool you prefer.
5. WordPress Integration
We will integrate plugins or create new plugins or customize plugins according to your functional requirements. We will also suggest the powerful plugins that you need to improve your site's performance. After the UI design is approved, we will start creating the HTML of the UI design and then integrate the HTML into the WordPress theme according to your UI design.
6. Delivery
After completing development process, Our developer will give you access to your developed WordPress site and request approval to go live. With all the pre-launch testing taken care of, your project will finally be ready to go live. Once approved by you, Our developer will upload your WordPress site to the server.  At this point, we will share technical user manuals and quality assurance reports for easy reference. We will also maintain a post-launch quality assurance checklist.
7. Support
Understanding the need for additional integrations to meet the ever-growing needs of your website, you can request us for third party integrations as needed. Successful launch and project delivery is not the end of our partnership. We are here to provide ongoing maintenance and support after launch. Backed by a team of experienced WordPress developers, you can request continuous support to keep your website up and running.
Advantages of WordPress Development
1. Scalability
The success of a website is marked by the traffic it generates. We build highly scalable websites that generate massive traffic and effectively manage zero to minimal downtime. It increases your income and sales a lot.
2. Security
Data security is an important aspect for any business website. We pay attention to it and develop a secure website with strict monitoring and prevention of cyber attacks and other data protection activities. WordPress websites have a lot of plugins and several security systems that make your website secure. Your WordPress website must meet all necessary data protection regulations and work according to well-established industry standards. Our focus on multi-level code audits and security plugin integration ensures code security and a website that meets all security guidelines. Your website does not become an easy target for hackers and users have a safe and secure browsing experience.
3. Maintenance
Maintenance through proper monitoring, performance evaluation, bug & error resolution is critical to maintaining website performance & user experience. We are always with you for this purpose. You can reach us anytime by call or e-mail for every kind of maintenance & support you need.
4. Extensibility
Usability designs integrates enterprise-level extensions that bring many benefits to your WordPress website, including advanced SEO, developer power tools, AI-driven content enhancement, drill-down user management and more. Our WordPress development experts focus on identifying and deploying business-oriented extensions that perfectly align with your operational requirements.
5. Speed
Your website visitors expect a website that loads quickly and works seamlessly. Our enterprise WordPress development identifies the right website framework and functional architecture to help you build a highly robust website that performs smoothly even under high traffic conditions. The website does not slow down and visitors can enjoy the website experience.
6. SEO Friendly Design
Effective SEO helps to build a strong and sustainable web presence. WordPress has tremendous SEO potential courtesy of its SEO-centric features and range of plugins. A website's ranking on search engines contributes a lot to its effectiveness. We take care of all SEO on page factors and design your website accordingly so that your website is on the top pages of search engines. Our WordPress team leverages the vast SEO possibilities provided by the platform to create sites that appear at the top of organic rankings on SERPs. The WordPress websites we build provide exceptional for online visibility.
7. Open Source
WordPress is open source and a cost-effective option for brands looking to build enterprise-level websites. The source code is freely available and can be modified and extended by anyone subject to the GPL license, and there is a passionate WordPress community creating various plugins and extensions. Our team has made significant contributions to WordPress and how its open-source capabilities can be leveraged to build complex and scalable websites.