We are a reputed Angular development company. We have provided our services worldwide and have a track record in delivering enterprise-level software. One of the main points for using Angular is its out-of-the-box functionality and wide range of features, which helps in getting faster time to market. Furthermore, Angular offers ready-made modules that help scale projects, making it an excellent enterprise application option. As an Angular development services company, we deliver highly interactive, robust and user-friendly Angular web applications, services and solutions. We offer high-performance AngularJS application development services with the use of the latest technologies and tools that ensure the agility of our Angular developers. Hire a dedicated Angular development team to leverage each feature, such as bindings, MVC, scope, routing, deep linking, controllers, services, dependency injections, cross-platform app development, and unit testing to meet development workflow and feature needs. AngularJS is developed and maintained by Google. Angular extends the features of HTML to create a highly interactive and dynamic user interface for websites and mobile apps.
Usability Designs can provide AngularJS development services for all suitable web applications. Our expert Angular developers use the latest resources and tools to deliver end-to-end AngularJS development solutions. Open-source technologies contribute significantly to the development of customized, fully functional ready-to-market applications with convenient development facilities. Leverage the expertise of top talent at Usability designs a reputed Angular development company in Pune. We offered Angular development services across a wide range of business domains at various scales, from e-commerce to healthcare to education. Our clients, whether they are start-ups or established enterprises, receive custom Angular development tailored to their individual business needs from our experienced developers.
We offer AngularJS development services that range from music and video streaming apps to e-commerce and marketplace, social networking app development. Whether you have a learning platform or just need a custom widget or interactive dashboard, our AngularJS development services can meet your needs. Angular framework is one of the best front-end technologies for developing dynamic user interface for web and mobile apps. Angular is perfect for enterprises and startups to develop complex web apps with its component based architecture, two-way data binding and interactive web components.
Usability Designs Angular Development Services
Our angular development services enable our clients worldwide to reach new heights. Build flexible, scalable and interactive web and mobile applications with excellent AngularJS development services. Well-configured Angular web development services enable enterprises to reach their business goals and differentiate themselves.  Trust us for trailblazing solutions and fast turnaround times. Being the best AngularJS development company in India, our spectrum of AngularJS development services adheres to the highest quality standards. Angular Development Company caters to your requirement for developing interactive apps and web applications. Our professional experts with strong Angular web development experience ensure that the best-in-class features and design are implemented in your product. Being a leading Angular development company, we provide you only best-in-class Angular development services. Our tailored Angular development services can not only meet your every criteria, but help secure your product's position in the tough competition.
Usability Designs offers Angular development services for all sizes and business types, from startups and enterprises. We specialize in delivering fast, high-performance cross-platform applications. Our Angular web development services speak of dedication, technical and domain expertise to turn your idea into a responsive and functional application. With increasing requirements for single-page applications, AngularJS has become a key component in the development of browser-based applications. Under our AngularJS development services, we cater to various project requirements with fast turnaround time. Grow your business with intuitive applications and dynamic single-page web applications from a top Angular development company. Our experienced Angular developers create applications with optimal structure while providing the best Angular development services.
1. Custom App Development
Our expert Angular JS developers provide secure, scalable, feature-rich and mobile-friendly Angular web application development. Enhance your ability to develop custom applications using Angular technology for a well-structured and sustainable business app that survives and adapts to market changes. Top-notch custom, scalable, performance-driven Angular web development services that give you an edge. Our Angular developers balance rapid development and quality with a user-friendly interface and compatibility. We also develop minimum viable products with complex validation and attract early adopters.
2. API Integration
Usability designs is one of the top Angular application development companies that build custom applications with robust architecture, security and scalability for flawless applications. We offer enterprise-focused and high-performance Angular base API development for faster interaction with the back-end and improved responsiveness. Our Angular development and integration services facilitate a rich user experience, code maintainability and responsiveness.
3. Angular UI/UX Development
Our team of expert Angular designers creates eye-catching web and mobile apps with creative UI/UX development solutions. Better UI/UX will help users interact more effectively with websites and applications and also enhance seamless navigation. Leverage usability designs Angular development capabilities for developing custom UI/UX that offer reusable and simplified code, templates, modules, dynamic user interfaces and built-in validation capabilities.
4. Web App Modernization 
Seamlessly modernize legacy applications by upgrading or migrating to Angular using our Angular development services. We modernize legacy web and windows applications by upgrading or migrating apps using Angular development services for improved UI/UX and consistent user experience. We use TypeScript to streamline code into modules that improve build-time errors and help simplify inline documentation. We ensure seamless modernization services with advanced features, improved UI/UX and consistent user experience.
5. Migration and Updation
Want to increase the speed, efficiency and performance of your web app? Migrate your existing code with us. This will give you increased speed, performance, scalability and user accessibility. We specialize in migration services ensuring that Angular applications stay updated with modern times and latest web development trends. Our experienced team will help you to migrate all angular services without any hassle.
6. Single Page Applications (SPA)
Want to develop a single-page web application? Our Angular developers will develop single-page dynamic web apps that are fast with advanced features & responsive design for easy mobile use. We build end-to-end Angular solutions based on your specific requirements & expectations. If you want to develop a project from scratch, outsource it to our Angular development company. Keep it light, minimal & fast with single page applications & let your users enjoy your services at high speed.
7. Support and Maintenance Services
Our expert team provides Angular maintenance and support services for consistent performance of apps. Keep pace with evolving technology changes to continuously support and maintain upgrades tailored to specific business requirements for increased productivity and usability. Our team facilitates ongoing support, enhancements, improvements and technical improvements that optimize business workflows for improved efficiency. The utility facilitates consistent support services that optimize business workflows with seamless Angular app upgrades, improved functionality, and enhanced architectural operational support.
Why Choose Usability Desings for AngularJS Development
Usability Design is a reputed Angular web app development company that develops custom web solutions with sleek, professional looking frontends. Being an Angular development company, We provides end-to-end services that help our clients realize the benefits of a fast, efficient, highly scalable and user experience enhancing framework. We help our clients migrate to the latest version of Angular along with developing custom widgets, Angular framework plugins as well as APIs for better business results. Our Angular development services include cost-efficient, user-centric web solutions tailored to your business brand.
Being a well-known AngularJS web development company, Utility Designs is known for meeting modern business needs and providing best-in-class solutions at competitive costs worldwide. Here's why we can be the best choice when it comes to building web apps using Angular. We have a dedicated Angular development team that configures, develops and deploys the best of your AngularJS development requirements. We use the latest Angular features like dependency injection, data binding and routing to deliver data-driven, interactive single-page applications using Angular, an open-source front-end framework. If you partner with us for AngularJS web development, we guarantee you these benefits.
1. Customer Satisfaction
As an Angular JS development company, we thrive on the dedication of our developers, quality analysts and project managers to customer satisfaction. We deliver Angular web development and mobile development solutions that meet the needs of our clients. We work on the latest frameworks and technologies to deliver you user-friendly, scalable, secure and innovative business solutions tailored to your needs.
2. Integrity & Transparency
Our AngularJS web development services are an optimal combination of quality and timely delivery. We use agile methods to keep you in the loop. Throughout Angular web development and mobile development, we focus on delivering solutions that meet your business goals, timelines and budgets. We respect your ideas and vision, provide you with every small project detail regularly and consider your sound advice when and where necessary.
3. Dedicated Team
We have a dedicated team of AngularJS web developers who are well-versed in delivering high-end business solutions across multiple frameworks and technologies. Our skilled Angular developers have rich experience in Angular web design and development. We build customized, creative and highly-interactive Angular applications that cater to the needs of startups and SMEs. Expand your Angular development capabilities for your business with our highly experienced in-house Angular team.
4. Transparent Work Approach
We are an ethical Angular development services company guided by transparency, honesty and integrity. We ensure complete project visibility right from the moment you approach us with your requirements. Angular is highly extensible and works seamlessly with other libraries. Each application feature can be customized to meet your specific requirements. We use email, phone, Skype, Slack and other means to communicate regularly with our customers.
5. Competitive Pricing
Our AngularJS website development services offer you the most competitive rates in the market. Our personalized services cater to the varied budget needs of our clients worldwide. We offer an ideal combination of affordable rates with amazing quality to ensure the lowest prices in our segment.
Angular Development Process
Angular is an open-source JavaScript framework originally developed and actively supported by Google. Following framework best development practices, Usability creates robust and secure solutions that attract your customers and provide the best user experience. It makes Angular development the first choice for reliable real-time single-page apps and front-end web and mobile apps development. Being the top Angular web development company in Pune, we have worked on various Angular web app development projects in recent years. Based on our experience, we have created a web application development process that optimizes the productivity and efficiency of our development team. We will follow this process for your web application development.
1. Requirement Gathering
Documentation will be focused first for clarity and better understanding on both sides and should get on the same page. This stage involves validating your idea with research, finalizing your Angular development team, and allocating resources to the project.
2. Designing and Wire-frame creation
Wire-framing and prototyping are the two main stages of the design process. We implement Angular functionality in your prototype so that the final product meets your high expectations and you have a vivid representation of the final product. We help our clients create interactive to view UI designs that describe the user-friendly flow of a web/app/platform.
3. Coding and Development
Front-end Coding with Angular, Back-end Logic Coding, Connecting Data Management System With the client's approval, we start the development with the most suitable technology for you and you will get the result as per the time commitment by our technical team. By building reliable progressive web apps, we help your business reduce the cost of angular development, yet reach anyone, anywhere, on any device with a single code base.
4. Testing of Web App
Running various tests on the web app, debugging and creating the final version of your web app all come under the testing phase. All the above tests are necessary to make your application run smoothly. After completion of testing phase we go for project launching. the application is able to go live from all errors in testing phase.
5. Support & Maintenance
We provide all services and support as per the terms mentioned in our contract. We also offer further monthly or yearly packages as per your requirement. We provide excellent support from deploying the solution on the server, helping to operate the web app, additional maintenance and post-live developments of the project.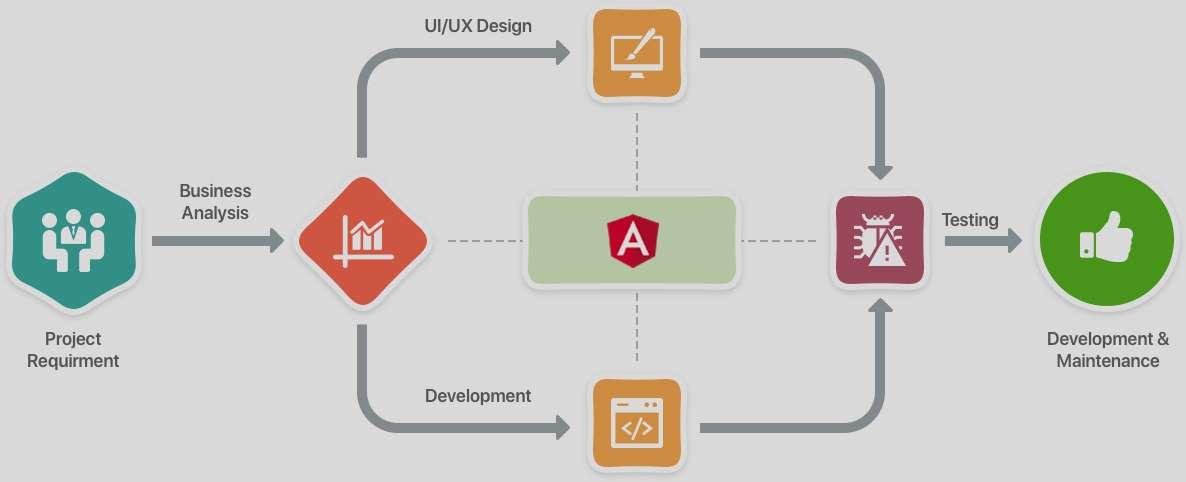 Why Choose Angular for Web Development ?
Angular is one of the most popular JavaScript frameworks that has evolved over the years. By extending HTML features, Angular helps to develop truly interactive and dynamic user interfaces for web and mobile apps. Usability is one of the most reputed Angular development companies providing end-to-end Angular solutions. We provide our clients with the benefits of this sophisticated and highly extensible, readable and scalable JavaScript solution for their dynamic business applications.
Usability is a leading Angular development company in India with years of experience in building sophisticated and industry-ready web and mobile applications. Hire Angular developers from Usability designs to build custom web apps equipped with interactive and user-centric features and fluid performance. As one of the leading Angular web development service providers in India, we have a global presence and are poised to meet the ever-increasing demand for dynamic and interactive web and mobile applications through our experience and expertise with Angular. Bellow are the main reasons of choosing angular for your web development project.
1. Flexibility
AngularJS offers more flexibility than basic HTML, lets you build single-page applications and simplifies the development and testing phases so you can get your website out faster. Angular uses a component-based architecture. It allows Angular web development professionals to easily build a fully extensible architecture of a web app. Developed components can be easily reused.
2. Extensibility
AngularJS is highly extensible and works with various libraries. This means you can fully customize your workflow to meet your exact needs. Many of Angular's features, such as component reuse, the popularity of its native JavaScript language, and simplified testing, mean that you can count on rapid development of your Angular application. The sooner you build an app, the sooner you get it to market. Rapid development is also very cost-effective.
3. Cross Platform
Angular can be used for any platform of web applications, Desktop apps and mobile apps. Angular's versatility allows it to be used beyond front-ends for web applications. It's also based on JavaScript, which is the language of Android applications, so there's nothing stopping you from building it. It is excellent for creating progressive web applications with multiple functions even in offline mode.
4. Reusable Components
Angular's component-based design allows components to be reused throughout the application. You can create a user interface using such components and thus simplify the work of the development team. Angular is a very popular web framework due to its simple and component-based architecture. It is suitable for managing heavy web applications that have many components and complex requirements, all of which are reusable.
5. Great MVC Support
AngularJS uses MVC architecture which allows AngularJS development companies to save time and deliver projects on time. MVC is very popular because it separates the application logic from the user interface layer and supports separation of concerns. With MVC architecture, all applications are built by encapsulating a well model view controller.
6. Excellent Community Support
This framework is developed by Google, AngularJS has a huge community support which is always ready to help each other in finding solutions to their problems. Community support makes it easy to find out everything about Angular development.